Recipe: Tasty Copycat Krispy Kreme Glazed Doughnuts
Copycat Krispy Kreme Glazed Doughnuts.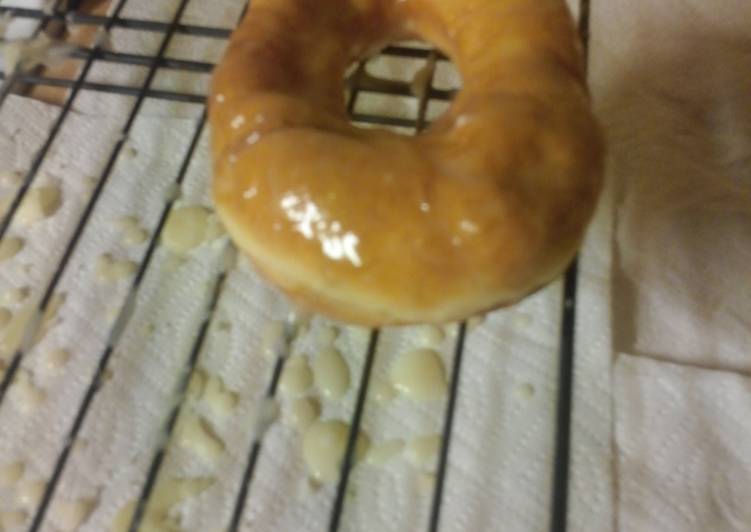 You can cook Copycat Krispy Kreme Glazed Doughnuts using 18 ingredients and 3 steps. Here is how you achieve it.
Ingredients of Copycat Krispy Kreme Glazed Doughnuts
You need of Doughnuts.
Prepare of active dry yeast.
Prepare of warm water.
It's of granulated sugar.
It's of evaporated milk.
Prepare of salt.
It's of egg yolk.
It's of Egg.
Prepare of vanilla extract.
Prepare of shortening.
You need of flour.
Prepare of Glaze.
It's of butter.
It's of granulated sugar.
It's of salt.
You need of evaporated milk.
It's of vanilla extract.
Prepare of warm water.
Copycat Krispy Kreme Glazed Doughnuts instructions
In the bowl of an electric stand mixer, whisk together yeast, warm water and 1/2 tsp of the sugar. Let rest 5 – 10 minutes. Add in evaporated milk, remaining granulated sugar (3 Tbsp + 2 1/2 tsp), salt, 1/4 cup shortening, egg, egg yolk and vanilla. Add half of the flour and set mixer with whisk attachment and blend until smooth. Switch mixer to hook attachment, slowly add remaining flour and knead on low speed until smooth and elastic about 4 – 5 minutes, adding additional flour as needed (I only added about 2 Tbsp more. You shouldn't need a lot more, you want dough to be slightly sticky and tacky but shouldn't stick to a clean fingertip). Transfer dough to a lightly oiled bowl, cover with plastic wrap and let rise in a warm place until double in size, about 1 1/2 hours..
Punch dough down and roll into an even layer onto a floured surface to slightly less than 1/2-inch thickness. Cut into doughnut shapes using a doughnut cutter or two round circle cutters (on large and one small for holes). Cover and let rise until doubled, about 30 – 40 minutes.
Heat shortening in a cast iron dutch oven to 360°F (don't walk away from oil while preheating and don't let it get above 375°F, remove from heat and reduce heat as needed). Meanwhile, prepare glaze by mixing together all of the glaze ingredients in a shallow dish (don't add too much water, you'll be dipping warm doughnuts in glaze so you don't want it to be runny, fairly thick is good). Carefully transfer doughnuts to oil (I could fry 3 at a time) and fry until golden on bottom, then using a wooden chopstick, flip to opposite side and fry opposite side until golden brown. Transfer to a wire rack and allow to cool 1 – 2 minutes then dip top half in glaze while still warm and return to wire rack and allow glaze to set at room temperature. Best served warm. Once cool reheat in microwave 5 – 10 seconds if desired..
Related post for Recipe: Tasty Copycat Krispy Kreme Glazed Doughnuts
Other source for Recipe: Tasty Copycat Krispy Kreme Glazed Doughnuts